Computer Science Majors and RockSat-C
Two computer science majors,
William Elliman
H'20 and
Victoria Loshusan
WS'20, are among the four students who make up the 2019 Hobart and William Smith Colleges RockSat-C team.
RockSat-C
is a program sponsored by NASA and the Colorado Space Grant Consortium. The team has designed and built a system for measuring muon flux and magnetic fields that will be launched as one of the payloads on a sounding rocket. The payloads built by various teams will collect data during the rocket flight. The HWS team is one of nine teams that have been selected to contribute payloads to the project. Loshusan and Elliman will spend ten days in June at NASA's Wallops Flight Facility working on the project.
Posted 7 May 2019
Hamdan Ahmed '20 Named Newman Civic Fellow
Computer Science major
Hamdan Ahmed
(Hobart '20) was named Newman Civic Fellow in March. This fellowship honors students who have worked to solve problems facing their community. Hamdan is one of only 262 students to receive this honor for 2019–20.
According to the HWS web site: "The Newman Civic Fellowship, named for Campus Compact co-founder Frank Newman, is a one-year experience emphasizing personal, professional and civic growth for students who have demonstrated a capacity for leadership and an investment in solving public problems. Through the fellowship, Campus Compact provides a variety of learning and networking opportunities, including a national conference of Newman Civic Fellows in partnership with the Edward M. Kennedy Institute for the United States Senate. The fellowship also affords fellows with access to apply for exclusive scholarship and post-graduate opportunities."
Posted 1 May 2019
ΦΒΚ Inducts Qingyi Lu '19 and Nick McKenny '20
The Hobart and William Smith chapter of Phi Beta Kappa (ΦΒΚ), the national honor society, has announced its new members for 2019. Included are Qingyi Lu (William Smith '19), a double major in Mathematics and Computer Science, and Hugh (Nick) McKenny (Hobart '20), who is pursuing a major in Mathematics as well as an individually designed major in cognition.
Posted 9 April 2019
Zibitsker '19 Wins "The Pitch"
Computer Science major
Maxim Zibitsker
(Hobart '19) was the winner in the final round of the
2019 Stu Lieblein '90 Pitch Contest
. The Pitch is an entrepreneurial competition in which Hobart and William Smith students compete for a $10,000 prize. In the final round, four finalists — chosen from a field of ten semi-finalists — present their ideas to a panel of judges in front of a live audience. Max's project,
Aqua Salutem Technologies
, aims to develop a system to identify swimmers who are in distress and alert the lifeguards to the situation. This is the second time that Max has been a finalist at The Pitch. In addition to his Computer Science major, Max has a second major in Economics and a minor in Mathematics.
Another Computer Science major, Tyler Andra (Hobart '20) was also one of the four finalists in this year's competition.
Posted 9 April 2019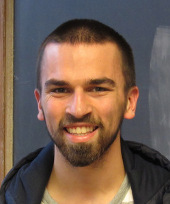 Math Intern for 2018–19
Drew Scammell will be the math intern for the academic year 2018–2019. Drew is a 2018 graduate of Hobart College with majors in Mathematics, Physics, and Dance. He was the recipient of the Beinert Prize, which is awarded annually to a graduating Hobart or William Smith student for excellence in Mathematics.
As math intern, Drew will be available to offer help to students in Calculus and Pre-calculus courses.
Posted 28 August 2018
Faculty Changes for 2018–19
The Department welcomes two new Visiting Assistant Professors of Mathematics for the 2018–19 academic year. Professor
Cristobal Lemus-Vidales
, shown on the left below, received his Ph.D. from Brandeis University in 2017. His research interests are in the area of Enumerative Combinatorics and Mathematics Education. Professor
William Simmons
, shown on the right below, received his Ph.D. from the University of Illinois at Chicago in 2013. His research interests include mathematical logic and its applications, differential algebra, formal methods and interactive theorem proving in computer science.
In other faculty news, Professor Alden Gassert continues as a Visiting Professor of Mathematics for a second year. Professor Yan Hao is on leave for the year, and Professor Jocelyn Bell is on leave for the Fall semester. Professor Joseph Rusinko will be spending the year as Associate Dean for Faculty Development and Affairs.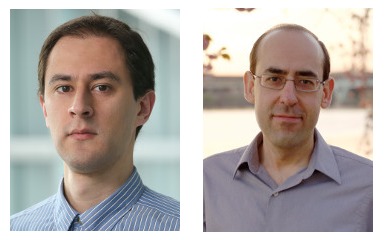 Posted 9 August 2018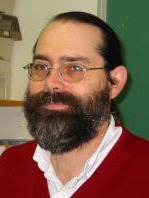 Professor Vaughn Retires
Professor John Vaughn retired from teaching at the end of the Spring semester 2018, after thirty-three years of service to the department. Professor Vaughn received his Ph.D. in Mathematics from the University of Illinois at Chicago in 1985, and he joined the department in the same year.
Although his Ph.D. was in mathematical logic, Professor Vaughn has long been an essential contributor to the Computer Science side of the department. His hardware courses, Embedded Computing and Robotics, have been particularly popular, and his expertise in that area will be hard to replace.
Professor Vaughn will be missed by his colleagues and students, but he continues his association with the Department and with the Colleges as Professor Emeritus.
Posted 17 July 2018
Department Student Prizes for 2018
At the end of each academic year, the Department of Mathematics and Computer Science awards a number of student prizes for academic excellence in mathematics or computer science. The prizes for 2018 were as follows:
The Robert Beinert Prize, awarded to a a graduating Senior for excellence in Mathematics, Drew Scammell.
The John S. Klein Prize, awarded to a graduating Senior to recognize excellence in Computer Science, to Jacque Kane.
The Catherine Adele Rippey '35 Prize, awarded to a William Smith Senior to recognize excellence in Mathematics, to Jacque Kane and Theresa Lohr.
The Glenn M. Lee Prize, awarded to the Hobart Senior who has been most proficient in mathematics and athletics, to Lukas Ruddy.
The Abigail Mosey Book Prize, awarded to a Hobart or William Smith Senior for generosity in helping others to learn and appreciate mathematical ideas, to Wenshi Wang.
The William Ross Proctor Prize, awarded to the William Smith Sophomore who has achieved the highest rank in mathematics in her first two years at the Colleges, to Kaitlyn Geraghty and Kelsey Pierce.
The Irving Bentsen Prize, awarded to the second year student at Hobart College who has the most outstanding record in mathematics and computer science, to Jesse Maltese and Hugh (Nick) McKenny.
In addition to these prizes, we note that Frank Oplinger completed his Honors project in Computer Science, entitled "ScoutPlus: A Web Application for the Development of Advanced Hockey Analytics".
And two senior Mathematics minors were inducted into the national honor society Phi Beta Kappa: Lauren Kogelman and Mitchell Hutteman.
For more about student prizes in the Department of Mathematics and Computer Science, including lists of past recipients, visit our department prizes page.
Posted 17 May 2018
News From Krista Anken
Krista Anken '17
writes that she has been working at a US Air Force lab and is applying to graduate school, where she plans to take courses part-time, leading to a Master's degree. Krista was a computer science major at William Smith, with a minor in mathematics.
About her job, Krista says, "I work at the Air Force Research Laboratory, Information Directorate in Rome, NY. Our Mission is to explore, prototype and demonstrate high-impact, game changing technologies that enable the Air Force and Nation to maintain its superior technical advantage. The first few months I've spent time performing research and development of technologies focused on text analysis, geo-spatial object tracking and multi-intelligence data fusion."
Posted 7 December 2017
News From William Bird
Billy Bird '17
, who majored in computer science at Hobart, writes with some news about what he has been doing since graduation.
Billy has been working for the past three months for the consulting firm Booz Allen Hamilton. His position there is DevOps Engineer, and he says that he really likes the work and his co-workers.
Billy writes, "I'm working on an NSF (National Science Foundation) project, and we support 15 different internal and public applications. DevOps is super interesting (google it!). We're sort of 'generalists,' or 'full stack;' we support every application team through continuous integration, continuous delivery, automated testing, and other cool stuff. There's a big learning curve, but I'm having a blast."
Posted 6 December 2017