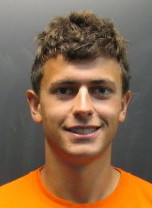 Math Intern for 2016
Christopher Wilson
has joined the department as the Math Intern for the 2016–2017 academic year. In this position, Chris will offer help to students in Calculus and Precalculus courses.
Chris is a 2016 graduate of Hobart College, where he was a double major in Mathematics and Physics. He plans to attend graduate school after his year as Math Intern.
Posted 29 August 2016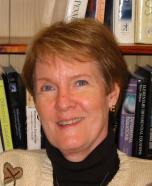 Distinguished Faculty Award: Ann Oaks
Ann Oaks, Professor Emerita of Mathematics, will receive a Distinguished Faculty Award on June 3, during HWS Reunion 2016. Professor Oaks is a 1974 graduate of William Smith College who went on to receive a Ph.D. from the University of Rochester and who returned to HWS as a Professor Mathematics and Computer Science from 1979 to 2003. She is also a parent of three HWS alumni: Jeffrey A. Oaks '84, Kimberly O. Holmes '85 and Kathleen Menn-Oaks '89.
The award was presented by Elaine Bruno WS '91. You can read a PDF of Elaine's presentation speech here.
The Distinguished Faculty Award was established in 1990 by the Hobart Alumni Association and the William Smith Alumnae Association. It recognizes the teaching and scholarly achievements of professors who are retired or have moved on from Hobart and William Smith.
Other former Professors of Mathematics who have received the Distinguished Faculty Award include Irving Bentsen, Abigail Mosey, William Pitt Durfee, and Walter Hetherington Durfee.
Posted 20 May 2016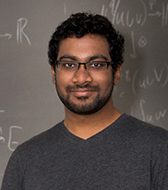 Honors Project
Graduating math major Aaron Ackbarali H'16 has completed an Honors project titled "The Atiyah-Singer Index Theorem and Fractal Geometry." The Aiyah-Singer index theorem is a famous theorem that reveals a fundamental relationship between two fields of mathematics, analysis and algebraic topology. Aaron's goal is to extend the theorem to the geometric objects known as fractals. Although the honors project is a start towards this goal, Aaron plans to continue his work while pursuing a Ph.D. in Mathematics at Stony Brook University. Aaron's advisor for the project was Professor Jon Forde.
Posted 11 May 2016
Student Prizes, 2016
Every Spring, the Department of Mathematics and Computer Science awards several student prizes for academic excellence in mathematics or computer science. The prizes for 2016 were as follows:
The Robert Beinert Prize, awarded to a a graduating Senior for excellence in Mathematics, to Aaron Ackbarali H'16.
The John S. Klein Prize, awarded to a graduating Senior to recognize excellence in Computer Science, to Matthew McPartlon H'16.
The Catherine Adele Rippey '35 Prize, awarded to a William Smith Senior to recognize excellence in Mathematics, to Susan Tuvell WS'16.
The Glenn M. Lee Prize, awarded to the Hobart Senior who has been most proficient in mathematics and athletics, to Christopher Wilson H'16.
The Abigail Mosey Book Prize, awarded to a Hobart or William Smith Senior for generosity in helping others to learn and appreciate mathematical ideas, to Alyssa Newman WS'16.
The William Ross Proctor Prize, awarded to the William Smith Sophomore who has achieved the highest rank in mathematics in her first two years at the Colleges, to Katherine Campbell WS'18 and Lauren Kogelmann WS'18.
The Irving Bentsen Prize, awarded to the second year student at Hobart College who has the most outstanding record in mathematics and computer science, to Andrew Scammell H'18 and Jiahao Wei H'18.
For more about student prizes in the Department of Mathematics and Computer Science, including lists of past recipients, visit our department prizes page.
Posted 8 May 2016